2011 A SELECTION of my animal paintings have been produced as greetings cards by Tenaya Arts & Cards and are now on sale online and throughout stores in the Wales & the West country. They are also available to buy online at the SHOP section of this web site, as are prints from a selection of my paintings

2013 Commissioned to paint sporting celebrities for Brian Hall of Tight5 Events
"It is Brian's absolute love of sport which inspired him to set up Tight 5. His particular passions are rugby and cricket, well he is from South Africa!
Tight 5 is not just any events Company. Its uniqueness is Brian – with his vast extent of expertise in hosting sporting events, his knowledge and experience, outgoing personality and relationships with so many top sportsmen and women which have allowed him to successfully host and organise countless sporting events over the past 11 years."
Limited edition prints are now available from http://artysand.co.uk/prints.html
2013 Commissioned to paint sporting celebrities for Brian Hall of Tight5 Events
Dan Lydiate, me looking very teeny and the lovely gentleman who won the bid for the painting of Dan
2017 Painting delivered to Gary Hooker & Michael Young of Hooker & Young in Newcastle-Upon-Tyne, to hang in their fabulous home on the stair wall.

2019 Paintings commissioned by Crayell Rottweilers & Working dogs based on a Native American Indian, Wolf and Eagle spirit painting
2020 Revisiting my love of sculpture, cast in bronze at Pangolin Editions foundry, Gloucester UK

2021 Reworking sculpture in a cropped ear version, available in a limited edition, being cast in bronze at MB Foundry, Wales UK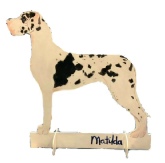 2018 Great Dane stands depicting the 6 breed standard colours based on actual individual Danes for the Midland & West of England Great Dane Club 70th Platinum Show 2018